How does the Build Measure Learn loop work?
Published on
April 19, 2023
, last updated on
June 7, 2023
In this article, we discuss the Build Measure Learn loop. We walk you through what it is, where it originates from, and most importantly, how it works. Finally, we discuss applying the feedback loop in practice, so you can start validating your business idea today.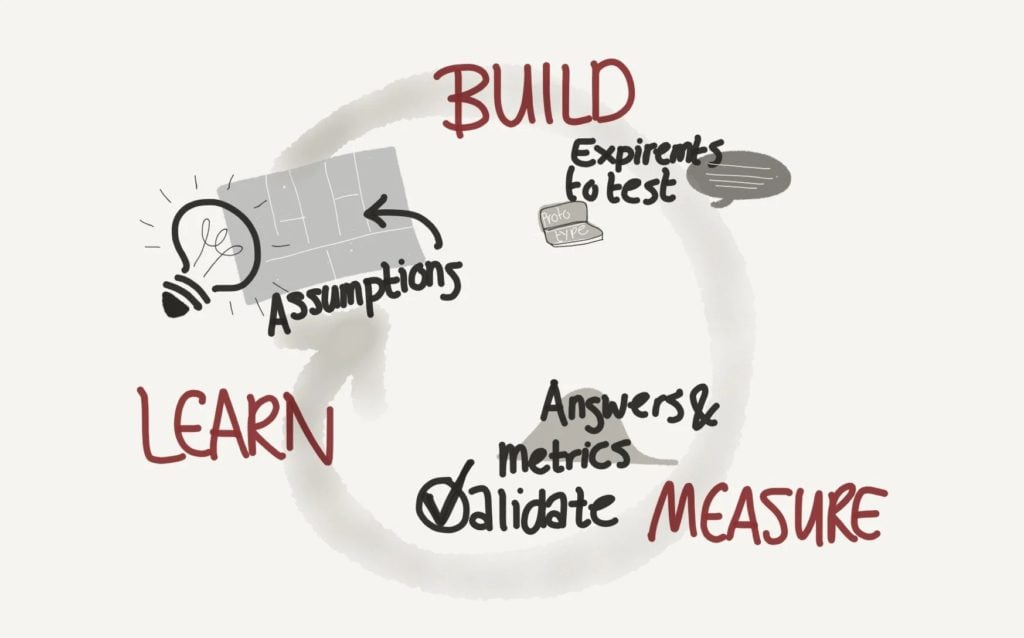 What is Build Measure Learn?
The Build Measure Learn feedback loop is the most important concept of the Lean Startup methodology. It is the process of rapid experimentation, using the least amount of time and resources possible, to optimize the learning of a startup.
A startup that is searching for a new business model has a lot of uncertainties.
Who are my customers?
What problem am I solving?
Can I solve the problem of my customer?
How are my customers willing to pay?
Without testing your ideas you are in danger to build something nobody wants. There are endless examples of startups that build a product without testing and when they launched nothing happened. Nobody wanted or even needed their product.
So it is important to learn fast and learn early what you need to build, and the Build Measure Learn loop helps you achieve that. The Build Measure Learn cycle breaks up the way startups learn into 3 actionable steps:
Build an experiment
Measure the outcome of that experiment
Learn what you should do next
Build
The Build step of the Build Measure Learn loops focuses on creating an experiment. An experiment might sound like a difficult scientific thing, but it can be as easy as talking to your customer to learn about their behavior.
To build an experiment you first have to understand what you want to test. Everything you think is true about your startup idea is at this stage still an assumption. An assumption is something you think is true, but you lack the evidence to back it. The Build measure Learn loop helps you turn assumptions into facts. You build an experiment, measure the outcome, and learn or gather evidence to support your assumptions.
So the first thing you need to do is to write down all the assumptions you have. You can use the Next Canvas to help you determine what type of assumptions you have. Who do you think your customer is, what problem are they facing, what is your customer trying to do, and how can I solve that problem, are all questions that help you generate assumptions.
After you understand which assumptions you have, you can have a look at which assumptions are most risky and need to be tested first. You can then build an experiment to test that assumption.
Measure
When you execute your experiment, for example when you start interviewing your customers, it is important to measure what is happening. How many of your customers tell you they have a specific problem, how often do they need your solution, or how much are they willing to pay?
It is crucial to determine how you will measure your experiment up-front. Otherwise, it is too easy to say your experiment is a success afterward. So discuss when creating the experiment when the experiment is a success.
How many people you talk to have to tell you they face a certain problem?
How many sign-ups do you need on your landing page in a period of two weeks?
How much is your customer willing to pay?
It is even better to decide when your experiment was a failure. Because what happens when you say your experiment is a success when you get 50 signups in two weeks, and you only get 47? Maybe the text on the landing page was not perfect yet, or the logo was too small. Maybe you didn't push the landing page enough on your social media channels.
It is easier to ask yourself: With all our experience, knowledge, and effort if we can't even get 10 sign-ups in two weeks, does it make sense to continue? We call this a failure criteria. When you then get 17 sign-ups, you clearly need to improve your process, but at least you found 17 people that are interested in your solution. If you only find 8, with all your efforts, you really should make a pivot.
Learn
Once the experiment is finished you need to decide what you have learned. If you created good success or failure criteria up-front you can decide whether you validated your assumption or invalidated your assumption. Keep in mind that both outcomes are a success! It is regularly more important (and far easier) to prove something is not true than it is to prove something is true. It is for example easier to learn your customer doesn't have a specific problem than to prove the exact problem your customer is facing.
You only fail your experiment if there is no clear outcome. You wasted time and resources, without getting anything in return. You either did the wrong experiment or you did the experiment wrong. Then, it is best to think about what you could have done differently and either rerun the experiment or come up with a new experiment that will give you results.
After you understand whether you validated or invalidated your assumption, it is time to decide what to do next! There are three actions you take at the end of the Build Measure Learn cycle:
When you validate your assumption it is safe to persevere. Your assumption was correct, and you can look at which assumption you want to test next.
If you invalidate an assumption, you have to make a pivot. A pivot in basketball means that you move one foot around, while the other foot stays in place. In our case, you invalidated one assumption, and you now have to make a decision about what you will change about your idea to continue. If you learned that your customer does not have a problem, you can do two things. Either look for a different problem to solve or decide to learn if there are other customers that might be facing the specific problem. You change one thing of your idea to continue.
If you keep invalidating your assumption, there comes a point to make the toughest decision: to stop. It is no use to keep beating a dead horse, it won't run any faster. If you keep invalidating your assumption, ask yourself if it is worth continuing, or if there might be other ideas that you can focus on.
Execute Build Measure Learn in reverse
You might have already noticed that the order in which you execute Build Measure Learn is not to first Build, then Measure, and then Learn. You have to determine what you want to Learn first, then focus on how you can Measure whether or not you learned the right thing, and then Build the experiment to gather the evidence.
Turning theory into practice
The theory behind Lean Startup and the Build Measure Learn loop is relatively easy, but it is really hard to turn it into practice. That is why we at GroundControl put a lot of time and energy into making validated learning practical. We created a set of questions that support you in each step of the Build Measure Learn cycle to understand what is currently most risky for your startup, and how you can test that assumption. We call this process, Lean Innovation.
Not once, but continuously Building Measuring Learning
Now you know what the Build Measure Learn loop is and how you can start running experiments, you have to understand that running one experiment is not enough. You can't talk to your customer once, and then start building your product for the next two years. You might know a bit about your customer's problem, but you still risk building something nobody wants. Keep running experiment after experiment to test every aspect of your startup idea, before investing a lot of time and money into actually building your solution. And even once you start building your solution you can run experiments to learn whether you are building the right thing.
Curious about how to put the Build Measure Learn loop into practice? We'll explain it in detail in our upcoming Lean innovation training course.

Timan Rebel
Timan Rebel has over 20 years of experience as a startup founder and helps both independent and corporate startups find product/market fit. He has coached over 250+ startups in the past 12 years and is an expert in Lean Innovation and experiment design.