Lean Innovation: Turning Innovation Theory into Practice
What is Lean Innovation?
Lean Innovation is the process of de-risking a new business model by running multiple experiments to gather the evidence needed to validate, or invalidate, the most-risky assumptions of an idea.
It is the part of an Innovation Ecosystem where the rubber hits the road, where (corporate) startups are interacting with the market and customers.
The theory behind Lean Innovation is a combination of Lean Startup, Design Thinking, and Agile. We turned the innovation theory into practice and created a pragmatic approach to business model validation. 
Lean Innovation Infographic
We created a printable infographic poster of the Lean Innovation process. You can download and print it for free.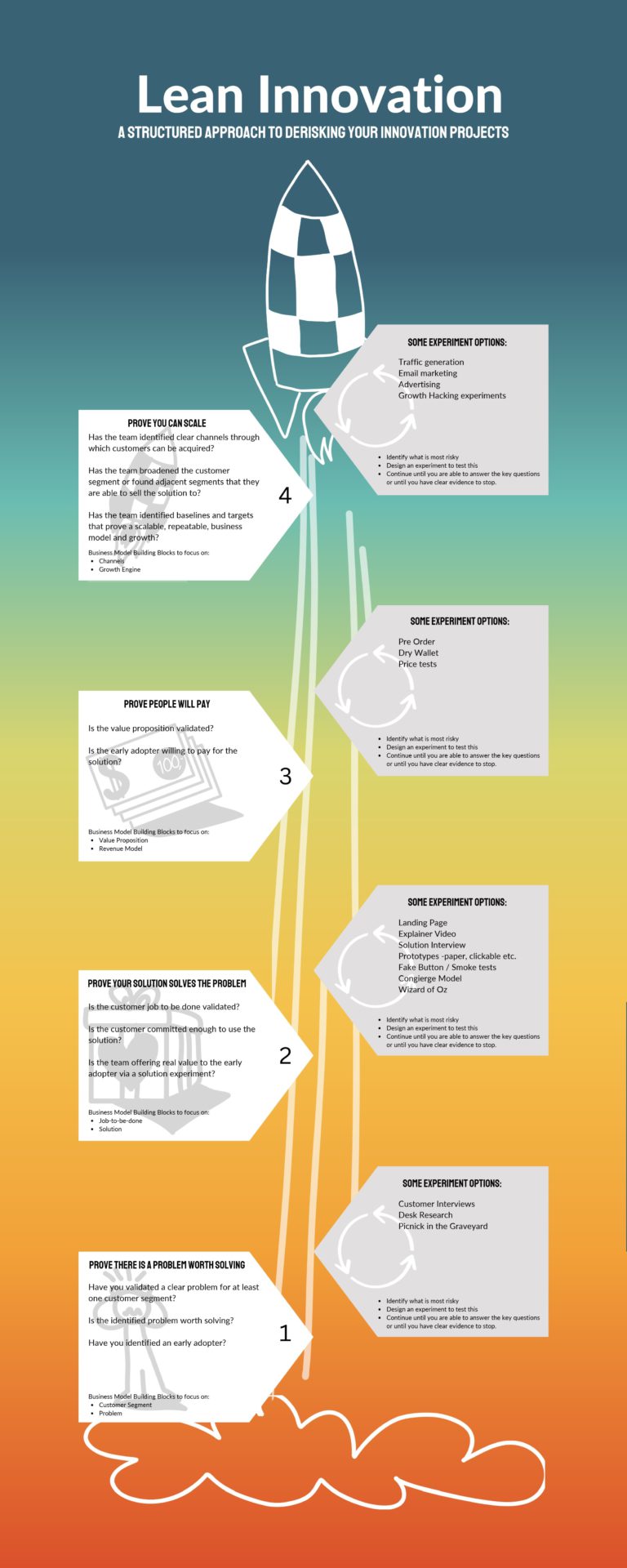 Download The Infographic
Lean Innovation Loop
To turn innovation theory into work, it helps to understand what you need to do when you sit down behind your desk on a Monday morning and start "innovating". To do this, it helps to have a structured approach to validating business models. A way-of-working that is repeatable and gives focus to your work.
We created the Lean Innovation Loop to make your search for new business models actionable. It is similar to a Scrum Sprint, where you plan your activities, execute them, and then reviews the work that you've done in the last two to three weeks. 
Every iteration of the Lean Innovation Loop looks at what stage you are currently in with your startup, what is then most risky, and how you can test this. To test the assumption, you create an experiment and breaks it up into tasks. You execute the tasks and then review the work you have done. Have you finished the experiment? Document your learnings and decide what to do next. You then start a new Sprint and ask yourself what stage are you in, what is currently most risky, and how can you test that.
Visually the Lean Innovation Loop looks like:
Focus: What stage are you in?
Understand: What is currently Most Risky?
Test: How can you test this assumption?
Build: Create the experiment to test the assumption
Activate: Execute the experiment
Learn: What have you learned from the experiment? What are your next steps?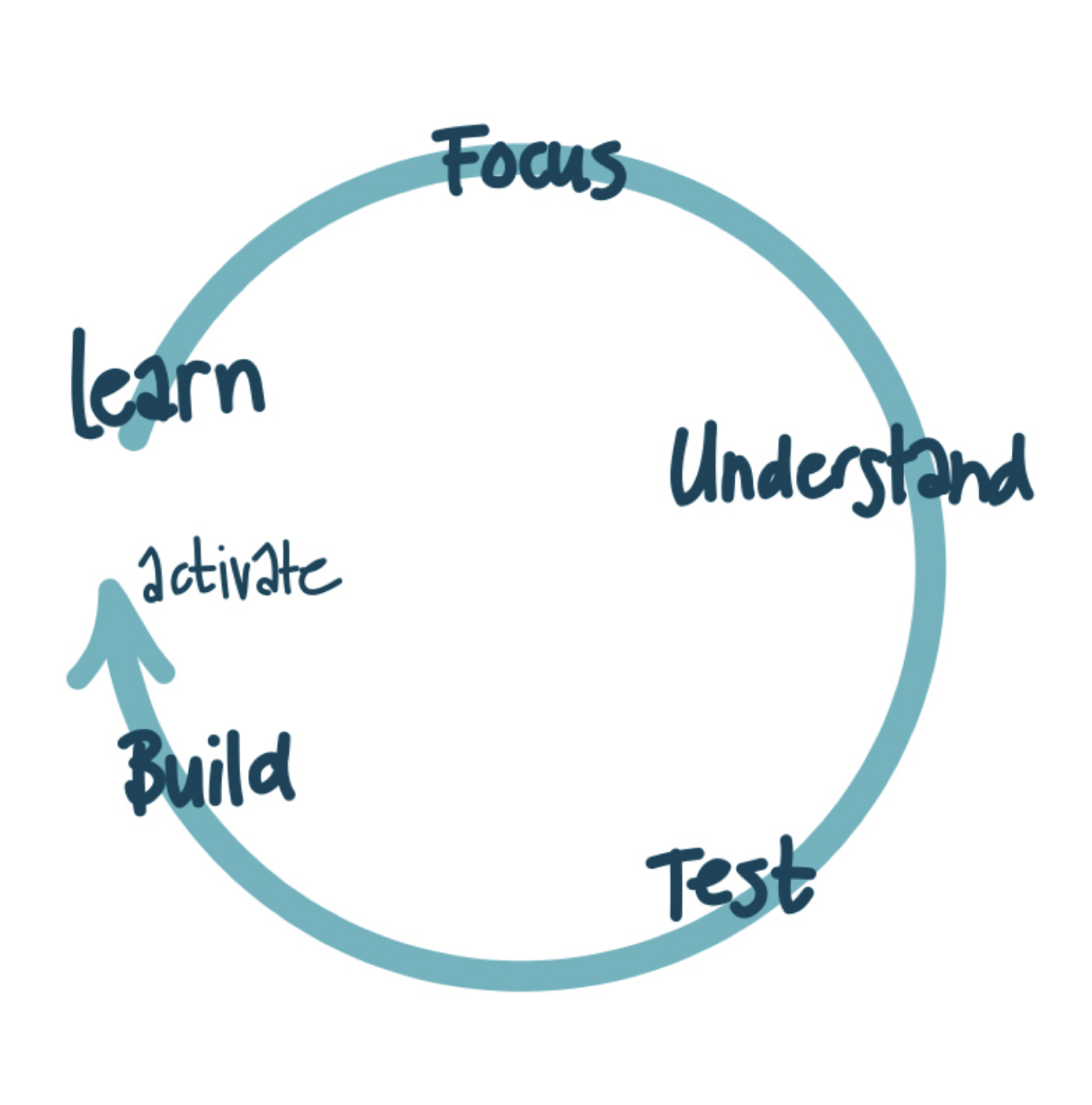 To understand what stage you are in with your (corporate) startup, you need to have an Innovation Framework like the NEXT Canvas. 
An innovation framework helps to break up the journey from a great business idea into a validated business model. 
Once you understand what stage you are in, you have to determine the risk of the relevant assumptions.
You can then create a lean innovation experiment to test that assumption to gather the evidence needed to (in)validate that assumption.
Lean Innovation framework
Prove there is a problem (worth solving)
Prove your solution can solve that problem
Prove (how) your customer will pay
Prove you can scale
Or summarised into 4 innovation stages:
Problem
Solution
Revenue
Scale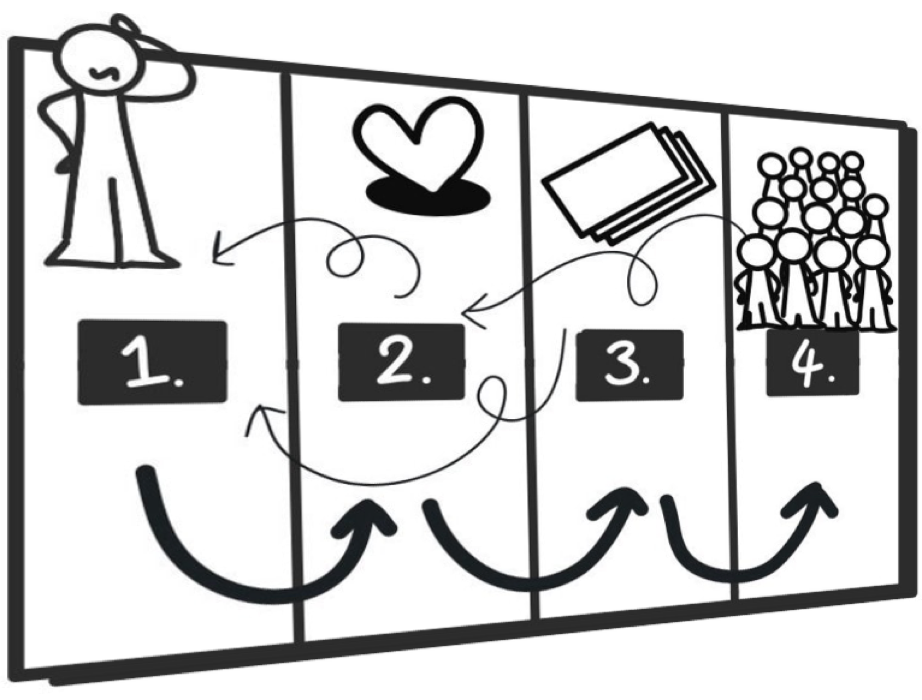 Once you understand where you are in your journey and you have the evidence to support that, you can look at which assumption is currently most-risky.
Most risky assumptions
To get an overview of your most risky assumption you first need to plot all the assumptions that you have about your business idea. You can use the NEXT Canvas to order them by their relevant stage: Put the assumptions about your customer and the problem in the Problem stage, your assumptions about the Job-To-Be-Done and your solution in the Solution stage, etc, etc.
Ti identify your most risky assumptions you only have to look at the assumptions up to your current stage. If you are still validating what problem you are solving and for whom, you don't have to look at how your customer is going to pay for your solution, since you haven't even validated your solution yet. This already gives you an enormous amount of focus and trims down what you need to validate next.
When you have identified all relevant assumptions, you can ask two questions about each assumption:
How much do I already know about this assumption
How big is the impact if the assumption is not true
Course for learning how to apply Lean Innovation
We are developing a training course to help you make innovation work. In true Lean Innovation way we want to do this together with our future customers. If you are curious about what we are building, sign up to receive updates and we'll reach out to understand you specific needs!
Receive updates on the upcoming Lean Innovation course