If you want to think out of the box, make a new box
Published on
October 14, 2021
, last updated on
June 21, 2023
By now, we all understand that explore and exploit are entirely different things, and any organization is aware of the need for innovation. When you test and try something new, you are in explore, and when you optimize and grow a business model, you are in exploit.
The common practice seems to be to throw everything that appears new in one box; The innovation box. New to the organization, new to the world, new to the clients, everything that is 'new' is innovation. But, if you want to start thinking outside of the box, throwing everything in the same box doesn't work. At all. Ever.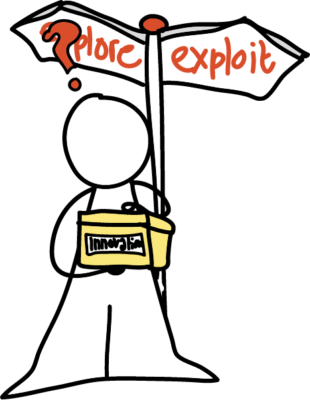 What are you trying to achieve?
"Isn't there a metric that shows how I am doing in terms of innovation?" It is a question I get asked a lot. My answer is always another question; "What innovation, what do you want to understand and why?"
Are you trying to understand if the company is addressing enough of its internal problems with innovative solutions?
Are you wanting to see if there your company is transforming in terms of culture and capabilities?
Do you want to see the results of your digitalization projects?
Do you want to see the progress of your internal venture-building efforts?
Each of these questions has completely different goals and risk levels. For each of these questions, preferably, the ownership lies somewhere else.
Some time ago, I met two people from an organization tasked with innovation within their entire organization. I asked, "I am assuming that with innovation you mean buidling new business models?" They answered, "We are responsible for solving our legacy IT problems, educating our employees on different ways of approaching problems as well as looking for new opportunities in the market." So I asked how many people are in your team, they answered, "It's just the two of us."
From this example, it is pretty clear that that is a recipe for disaster. Two people trying to succeed in doing this many different things with so few resources is not adequate. Yet, in many organizations, though less pertinent, this is what is happening. But it is not just the resources; the same people are responsible for different things in purpose, goals, and expected outcomes. But still, it is evaluated in the same way. Often managers are looking for one tool to keep track of all innovation efforts, the training of the capabilities, the understanding of the digitalization projects, new ideas, and venture building. They fail to understand why non of it is successful or why true disruptive innovation never flies.
Align your business goals
It makes sense to have different goals for the 'success' of changing your culture to a more 'innovative one' than for transforming key core processes into digital ones. Still, they do fit in the box of exploitation since the end goal of both is to help grow and optimize the organization's current business (models). Thus, the organization's processes will understand its primary goals, and their success can be defined and made visible by them. Even then, they do not need to be tracked in one tool because both things serve different purposes and drive different outcomes. Think of it as having compartments in a box to ensure that each element is at the right spot in the box.
Having different goals for success is even more true for' thinking outside of the box.' (or finding entirely new and disruptive business models). Putting them in the same box with the other 'innovation' in your company aligned with growing and optimizing the organization's current business (models) prevents it from ever becoming disruptive. Labeling them or putting them in a separate compartment in the same box does not work. They need to be outside of that box to become disruptive rather than incremental. But leaving them completely uncontrolled is also not beneficial for their success. So they form a new box (explore). That box needs a new system, new indicators, and its own tools and way of working aligned with its goals and purpose, finding new markets and business models that could be part of the portfolio in the near future. This box is a high-risk box, and its system should make that visible. The goal is to navigate and derisk that uncertainty rather than to grow and optimize.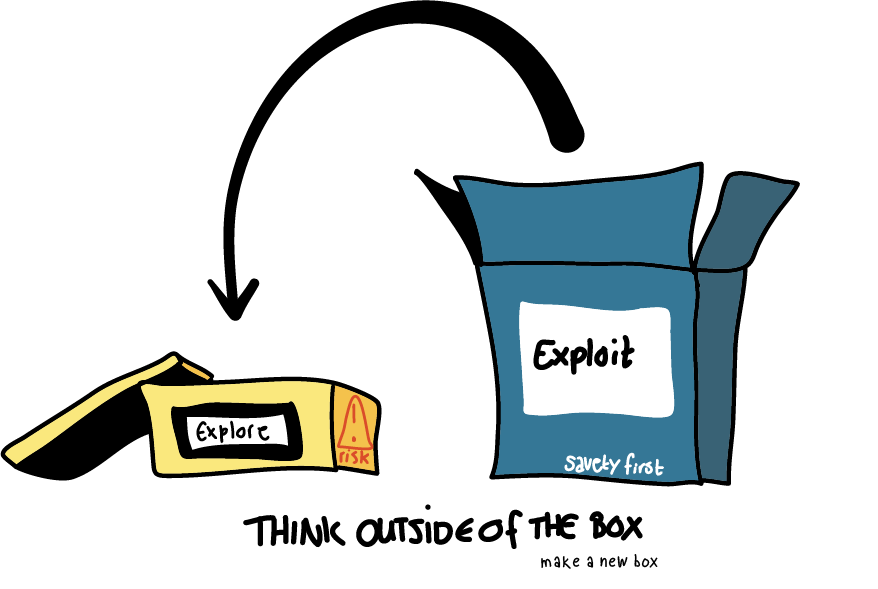 Do not keep everything in one box
Even if everything is connected, I feel rather Dirk Gently today, but putting all innovation in one big box will only make it tangle and constricted. If you want to build a future-proof company, make sure that you know the purpose and the goals of what you are trying to achieve to iterate and improve. Adjust the tools and methods accordingly. And if you want to think outside of the box -looking for new markets and new business models- make sure to do that in a new box.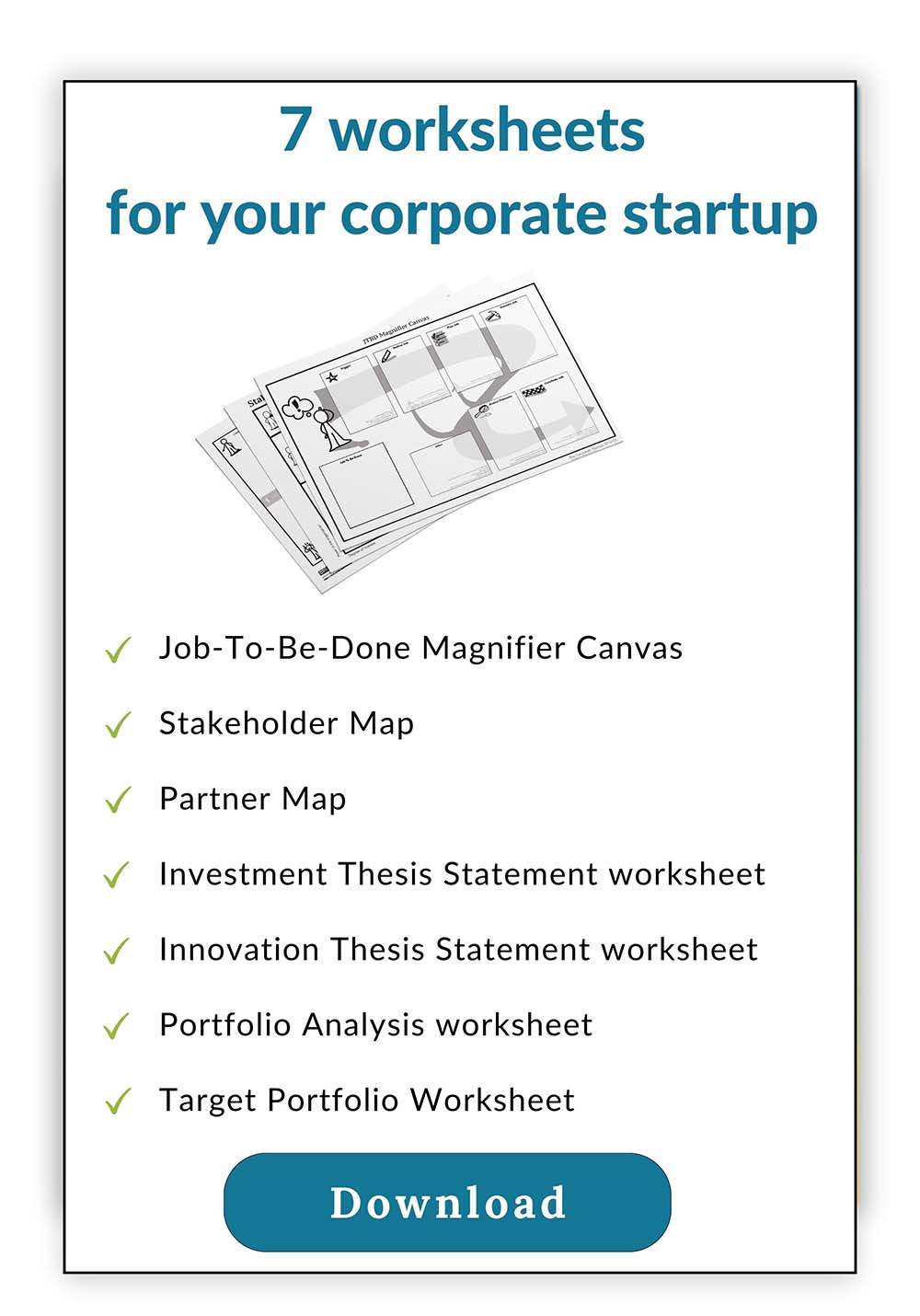 Esther Gons
Esther Gons is the award-winning author of The Corporate Startup & Innovation Accounting. Winner of the 2022 Golden Axiom Business Book Award, 2019 Golden Axiom Business Book Award, and the 2018 Management Book Of The Year Award. She is an expert in Innovation Accounting, Innovation Strategy and Portfolio Management.