3 key success factors to Corporate Venturing with a Corporate Venture Builder
Published on
April 9, 2021
, last updated on
June 21, 2023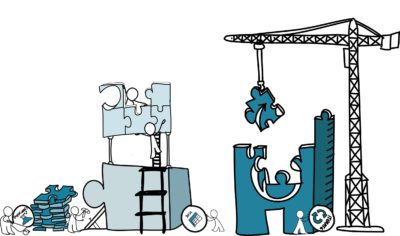 What is corporate venturing?
Corporate venturing is an innovation and growth strategy, in which a corporation wants to maintain or obtain a competitive advantage by funding and supporting a venture. This can be done by investment, management support, and the sharing of expertise. There are various forms of corporate venturing such as corporate venture capital, corporate venture incubators and accelerators, and corporate venture builders.
In this blog, we explain how corporate venturing can be executed successfully with the use of a corporate venture builder.
What is a corporate venture builder?
A Corporate Venture Builder is a form of corporate venturing. In practice, it is an innovation department that creates new corporate startups in succession. Corporate Venture Builders spin out startups to commercialize new products, services, or intellectual property and often have business models that are fundamentally different from that of the parent company.
The Corporate Venture Builder looks a lot like a Startup Studio (like we are). It operates in a similar way as a Movie Studio, which creates multiple movies a year using shared resources and learnings to be successful.
The Corporate Venture Builders takes internal or external founders and combines them with internal startup team members specialized in creating and operating corporate startups, to test new business ideas and bring them to market.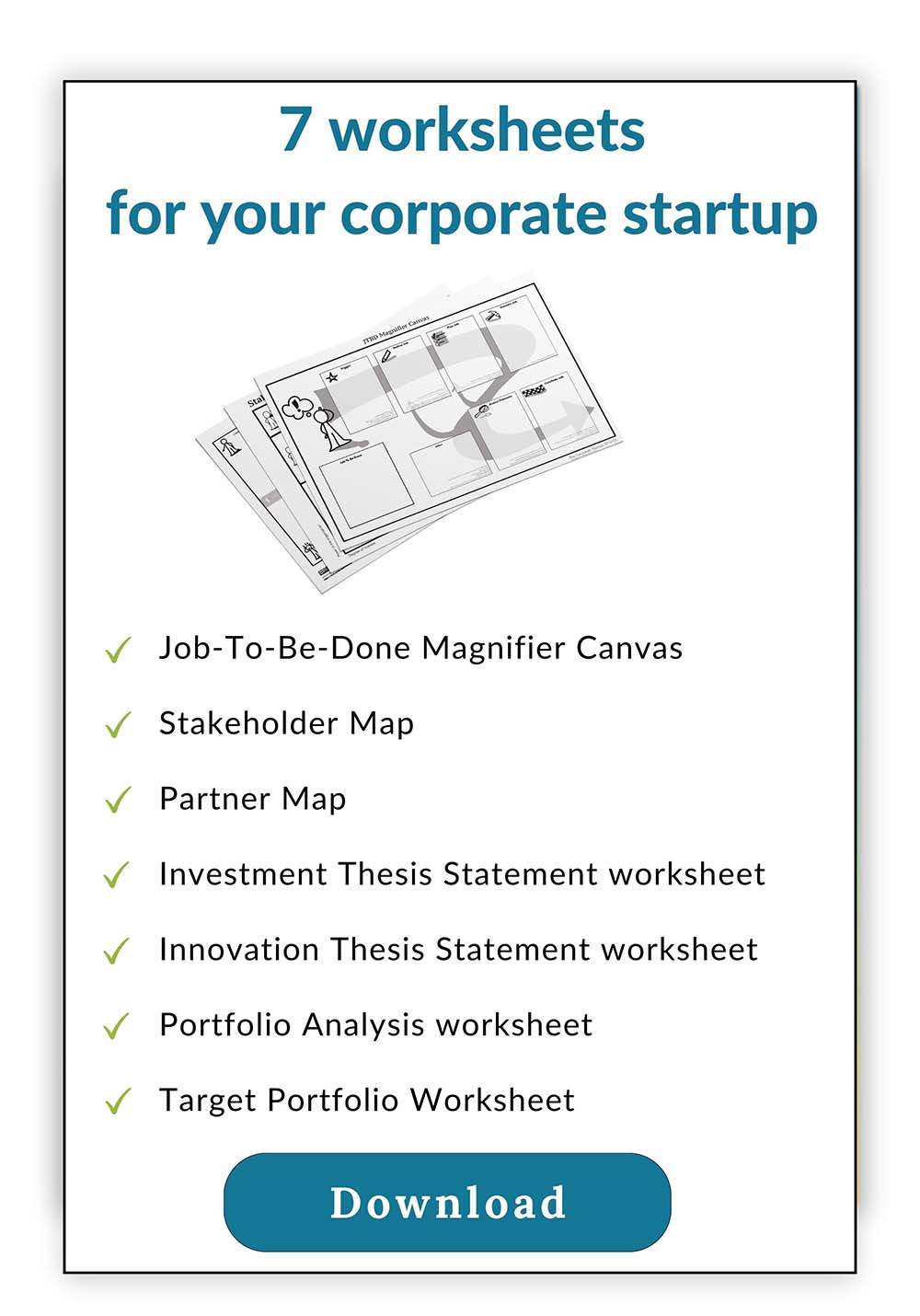 Way of Working
Since Corporate Venture Builders create corporate startups, they operate in a radically different way than the core business. Just like startups operate differently than established companies.
The Corporate Startup Builder needs to create a way of working that makes innovation work. Innovation is a creative process that you can not fit into a checklist. Still, at the same time, to make the creation of corporate startups repeatable, predictable and scalable, you need to find a process that works for you—a structured approach to finding business models that work.
We created a modified Build-Measure-Learn loop that continuously asks:
What is currently the assumption with the most risk?
How can we test that with an experiment
What have you learned from that experiment
What decision do you make based on these learnings? Persevere, Pivot, or Stop?
Rinse and Repeat
The benefit of creating a unique way of working for your Corporate Venture Builder is that you can start comparing different corporate startups since all are operating in the same way. You can start with Innovation Accounting to make your innovation activities measurable. It is no secret that many corporate venturing programs are getting killed due to limited short term return on investments. That is why measuring the startups' progress is a critical factor if you want to succeed in corporate venturing.
The right metrics
How do you make the creative process of innovation measurable? In the previous part, we explained that you need a unified way of working across all corporate startups to succeed in corporate venturing, just like a movie studio has a repeatable process to produce movies.
When you have that way of working in place, you can start measuring and comparing the corporate startups in your portfolio. KPIs to compare different corporate startups are for example:
Looking at your portfolio of corporate startups, it makes sense to look at the distribution of your startups across their journey from great idea to validated business models. Some of the innovation metrics that you should measure to scale your Corporate Venture Builder are:
How many startups do we need to start to bring one of them to scale?
How much money do we need to invest in each stage?
What is the invalidation ratio?
This process is very similar to how Venture Capitalists invest in startups. We call this the Corporate Venture Board
Venture Board
The Venture Board represents the internal investors, investing in the corporate startups. Just like in the startup world, investments are made in stages. You start with a small investment to have the startup investigate which problem they are solving and for whom. A seed investment to create the first solution and a larger investment to find a working revenue model.
To scale the Venture Board, it is important to standardize the investment decisions. You do this by defining clear stages each corporate startup goes through. We usually implement four stages:
Based on these stages, you create key questions that your corporate startups need to answer with confidence. That confidence is acquired by running experiments and documenting the learning. Examples of key questions for the Problem stage are:
Have you validated a clear problem for at least one customer segment?
Is the validated problem worth solving?
Have you identified an early adopter?
Based on these questions, you can start making data-driven investment decisions and move away from investments made by gut feeling alone.
Can the startup continue to the next stage?
Does the startup need to gather more evidence?
Or do we need to invalidate and stop the startup to free up resources for new business ideas?
GroundControl can help
We started the development of GroundControl to help us scale our own venture building. We needed a structured way of working across all our startups and easily comparing one startup to another. Slowly, we started developing our own innovation accounting dashboards that gave us insights into our portfolio's performance.
For the last 5 years, we have been testing GroundControl in our own Startup Studio and across multiple corporations that use corporate venture building. You can try our proven software platform for free!

Timan Rebel
Timan Rebel has over 20 years of experience as a startup founder and helps both independent and corporate startups find product/market fit. He has coached over 250+ startups in the past 12 years and is an expert in Lean Innovation and experiment design.