The Lean Sprint what is it?
Published on
May 31, 2016
, last updated on
May 3, 2023
Most startups are familiar with agile development sprints of 1 or 2 weeks. They try to plan work that 'belongs' together and release a new version either at the end of the sprint or when the work is done. That structure works pretty well and helps to build a flow into your company. We used the concepts of Agile and Scrum to run continuous experiments over a longer period of time this is called the Lean Sprint. Today I will explain what the Lean Sprint is, and how you can start using it in your own organization.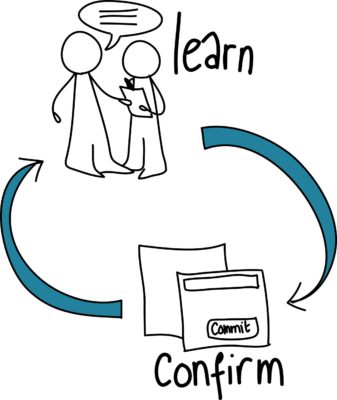 What is the Lean Sprint?
A Lean Sprint is a time-boxed, focused period of work in which a team uses the Lean Startup, or Lean Innovation methodology to validate assumptions and build a Minimum Viable Product (MVP). During a Lean Sprint, the team works in short, iterative cycles to gather feedback from customers and stakeholders, and uses that feedback to make informed decisions about what to build next.
The goal of a Lean Sprint is to quickly test and validate assumptions about a product or service, while minimizing waste and maximizing learning, this is also called business model validation. The process typically involves rapid prototyping, customer discovery, and experimentation, with the aim of creating a product that meets the needs of the target market. The ultimate goal of a Lean Sprint is to create a successful product or service that delivers value to customers and generates revenue for the organization.
How to put the theory into practice?
Lean Startup is easy in theory, but hard in practice. The books and blog posts are easy to understand, but how do you get into the flow of running Lean Startup? At NEXT Amsterdam we focus heavily on running multiple experiments to validate the business model as fast as possible. We developed our own NEXT Canvas to give startups better insight into their progress and even developed a software platform to keep running Lean Startup over a longer period of time. Part of this workflow is a combination of Scrum and Lean Startup, we call this the Lean Sprint.
The Lean sprint helps to get into the flow with Lean Startup. We try to run one experiment every two weeks. We start with a "Sprint Planning" strategy session to understand where we stand as a team and what is currently most risky and needs to be tested first. Because we know where we stand as a team, selecting the right experiment is easier. There are only a handful of experiments to validate a problem for example.
After selecting the experiment, we design the experiment together with the team on an Experiment Card or in our Innovation Manager. The team then runs the experiments.
At the end of the sprint, we come together again and discuss what we have learned. We update our assumptions on the NEXT Canvas and determine where we stand. Are we still validating the problem, solution or revenue model? Or have we gathered enough information to move forward?
As you can see in the image above, our canvas and experiment cards combined with the Lean Sprint gives a great overview of your progress towards validating your business model. The results of an experiment in Lean Sprint #6, can result in a new feature or change in development sprint #7. Combining the Lean Sprint with your development sprints gets the whole product team into the same flow and makes it possible to keep running Lean Startup for a longer period of time. It makes Lean Startup work.

Timan Rebel
Timan Rebel has over 20 years of experience as a startup founder and helps both independent and corporate startups find product/market fit. He has coached over 250+ startups in the past 12 years and is an expert in Lean Innovation and experiment design.