Innovation Accounting framework, what is it? and who is it for?
Published on
September 29, 2020
, last updated on
May 24, 2023
Today we will be talking about the "innovation accounting framework" that Esther and Dan introduced in their book Innovation Accounting. Things like employee's skills and culture (that are intangible) are becoming more and more important for companies their in-market success. Organizations are more reliant on innovation to drive profit than ever before. A new, non-financial, accounting system that works in sync with the old one is needed. Especially companies that see innovation as a leading growth engine are facing the necessity for a new system. The innovation accounting framework that Esther and Dan talk about shows how such a new system should look like.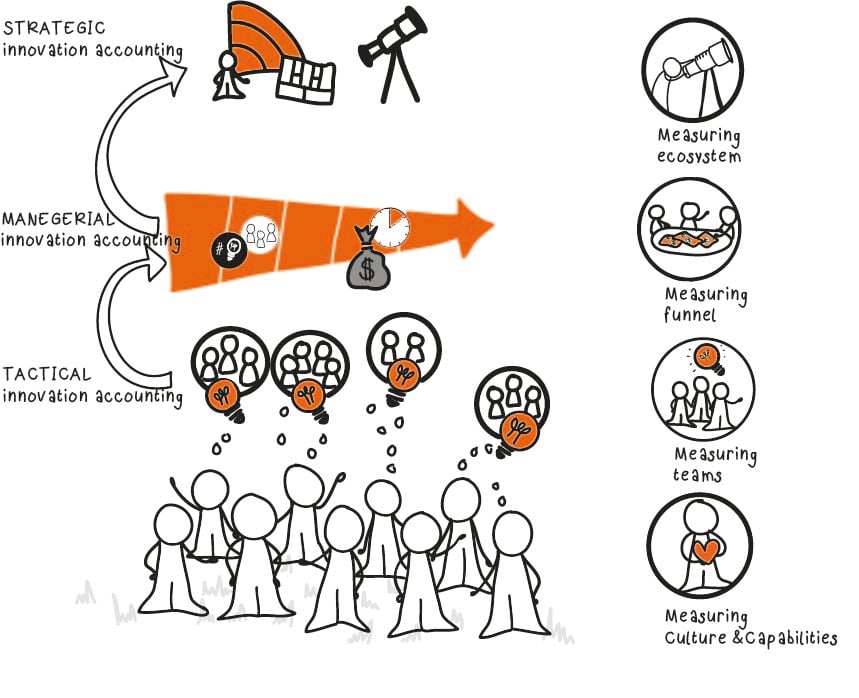 Where did this Innovation Accounting framework come from?
The term Innovation Accounting was first coined by Eric Ries in his groundbreaking book The Lean Startup. In the book, Ries explores the topic of Innovation Accounting to measure the progress of a single startup. Doing so would hold entrepreneurs accountable, allow startups to be compared to one another (e.g. to decide which to invest in), and give insights into the 'success' of a startup.
10 years later, only a few peope had ever written about Innovation Accounting, and no-one ever explained in detail how such an system should look like. That is why Esther & Dan decided to write the Innovation Accounting book and introduce an innovation accounting framework that illustrates just that.
Who should use the Innovation Accounting framework?
Generally, larger existing companies already have systems in place to measure success. These systems contain metrics such as profit and return on investment (ROI) that are especially relevant for the proven business models that are now executed upon. However, those metrics wouldn't work for startups that are still searching for a business model, as they would only become relevant far too late in the idea's lifecycle (when the solution enters the market). If we choose to use traditional metrics, we're either going to judge a startup too early on its financials, or not measure anything at all. Both scenarios would be destructive in the long term.

In a blog for IDEO U, Ries writes: "Innovation Accounting is a way of evaluating progress when all the metrics typically used in an established company (revenue, customers, ROI, market share) are effectively zero."

By writing this, Ries clearly conveys the main idea of Innovation Accounting from the perspective of a startup. However, nuance must be made: even when a (corporate) startup has some revenue, market share, or a bunch of customers, its progress should still be measured with Innovation Accounting. This is because its business model hasn't been proven until it's proven to be able to scale. Thus, the Innovation Accounting framework remains relevant until a startup can no longer be considered to be a startup: when it has found a repeatable and scalable business model.
How should Innovation Accounting be used in a corporate environment?
Eric Ries mostly explores the topic of Innovation Accounting to measure the progress of a single startup. In The Corporate Startup, we expand the principle of Innovation Accounting to measure and manage the whole Innovation Ecosystem. From the perspective of the ecosystem, Innovation Accounting is the process of defining and measuring innovation within an organization. Especially when new ideas are created and tested, we need non-financial indicators for success. That is why every modern organization should apply the principles of the Innovation Accounting framework in addition to traditional financial accounting.

Applying Innovation Accounting in the corporate context requires it to manage different innovation activities and, as a consequence, KPIs need to be implemented at different levels of the innovation ecosystem.
What types of innovation are applicable to this framework?
With a general understanding of when and how Innovation Accounting needs to be used, we can discuss what types of innovation we should use the framework for. A common misconception is that Innovation Accounting should be applied to measure all innovation. Firstly, Innovation is used as a catch-all phrase nowadays. If there is no consensus in a company what innovation is and isn't (which often is the case), you're bound to incorrectly measure it. Secondly, only some types of innovation require alternative measurement in the form of Innovation Accounting.

In our blog on the innovation management matrix, we recognized three types of innovation that require a different approach to one another from a managerial and accounting perspective. In essence, 'Startup innovation' (which covers both disruptive and breakthrough innovation) is the type of innovation that the innovation framework is applicable to. This is because it requires a different system that deals with its specific risks, longer timelines, and a different way of working. Thus traditional metrics such as ROI will not work while developing this type of innovation, so alternative metrics are required.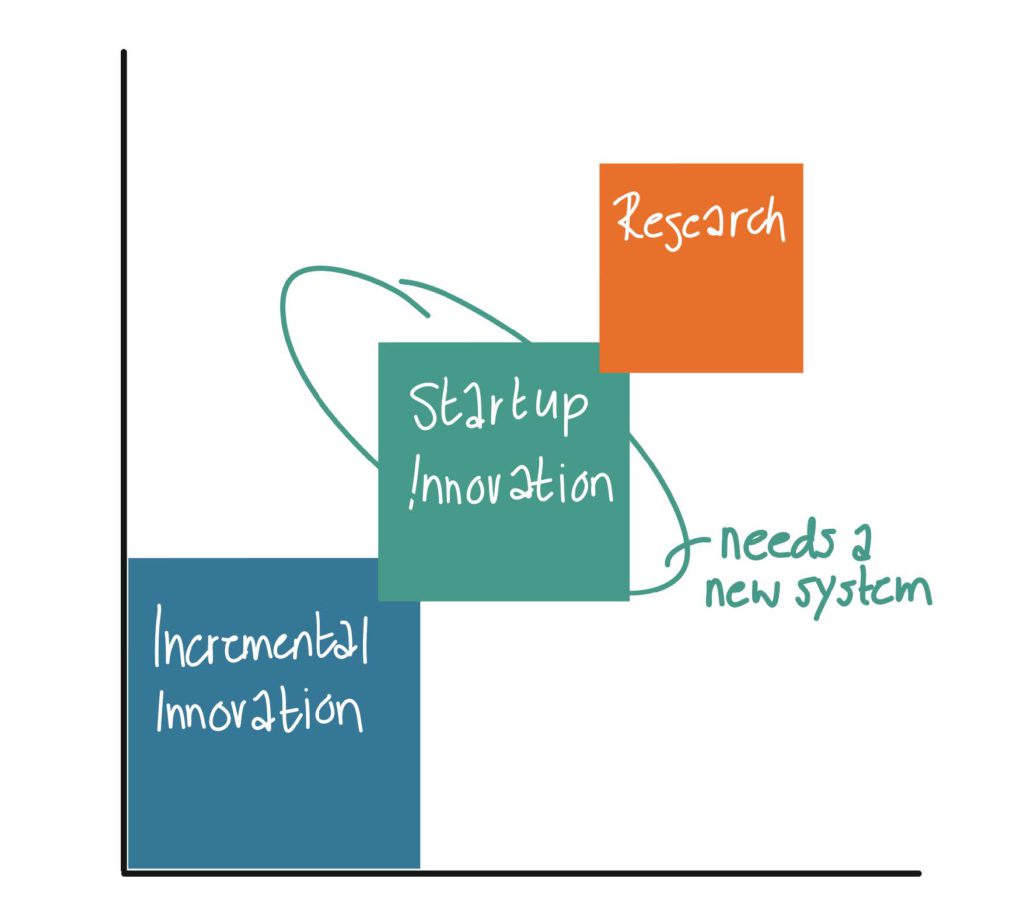 Here's why: traditional metrics exist to reduce risk from the inside perspective of the organization. Consequently, they block opportunities that are outside the context of the organization because they bring too much uncertainty. This is because traditional metrics only evaluate what is known and what would contribute positively to the organization's financials. Any initiatives (such as startup innovation) that cannot provide an immediate answer to how they would contribute financially are considered as risks and will be treated as such (they will be annihilated).
What types of innovation are not applicable to this framework?
When it comes to sustaining innovation and basic research, it is not feasible to apply it to this new system that the innovation framework illustrates. Sustaining innovation can be measured quite well through the traditional accounting models of 'operational excellence'. This is because the goal of this innovation is to contribute towards the current business models of the organization, instead of new business models.

Basic research, on the other hand, should already have different systems in place. Companies agree that future benefits are uncertain and that expenditures cannot be capitalized directly. The goal is oriented towards new discoveries or science. Once those discoveries have been made, the company can decide where to use them, for example in startup innovation.

Thus, managing different types of innovation requires different types of measurement. Applying the wrong type of measurement can create confusion and can even lead to destructive decision-making for overall progress. It is incredibly important to have consensus in an organization on what types of innovation we recognize, and how they should be measured apart from each other before applying the innovation accounting framework.
Putting it together
In their new book "Innovation Accounting", Esther Gons (CEO & Co-founder of GroundControl) and Dan Toma give a refined definition to Innovation Accounting and its application: "an organized system of principles, tools, and KPIs established to gather, record, classify, analyze and present accurate and timely data about a company's breakthrough and disruptive innovation efforts – working to complement the existing financial accounting system." And they provide a new framework that shows how such a system should look like.
This definition neatly summarizes the two principles that we've discussed: The principle that the Innovation Accounting framework should only be applied to certain types of innovation (breakthrough and disruptive), and the idea that Innovation Accounting is there to complement the financial accounting system, as it lacks KPIs to measure (early) innovation effectively.
And with that, we've hopefully given you a better understanding of what the framework is and where it should (and shouldn't) be used.
We believe that we are in the early stages of a corporate innovation revolution, that is why we build GroundControl, our software that is heavily built around the principles of Innovation Accounting to measure innovation success. Curious? Take a look at our software without the commitment of signing up.
If you've used our platform before or read about it, that shouldn't come as a surprise. However, we often notice that there is confusion about what Innovation Accounting is and isn't and where it should and shouldn't be used. Measuring innovation through traditional KPIs, that are involved in the execution of a company, can be destructive. However, applying Innovation Accounting incorrectly might be destructive as well. So we need to give a general definition to Innovation Accounting and its application. Let's get started.