The Early Adopter from an Analytics perspective
Published on
April 1, 2016
, last updated on
December 9, 2021
Yesterday we had the first introductory session with a potential portfolio company and tried once again to explain why it is so important to focus first on a clear early adopter.
We often compare the early adopter with a person who fell of his bike (we're from Amsterdam after all) and broke his arm. His bone is sticking out and he is willing to do everything, pay everything, try everything to fix his arm at that moment. He doesn't mind if the product is expensive, not yet complete or experimental, as long as it fixes his problem. The ideal early adopter is like that. But just like people falling of their bikes in Amsterdam (we have lots of experience riding bikes), there are not that many early adopters compared to 'everyone'.
High yield, low volume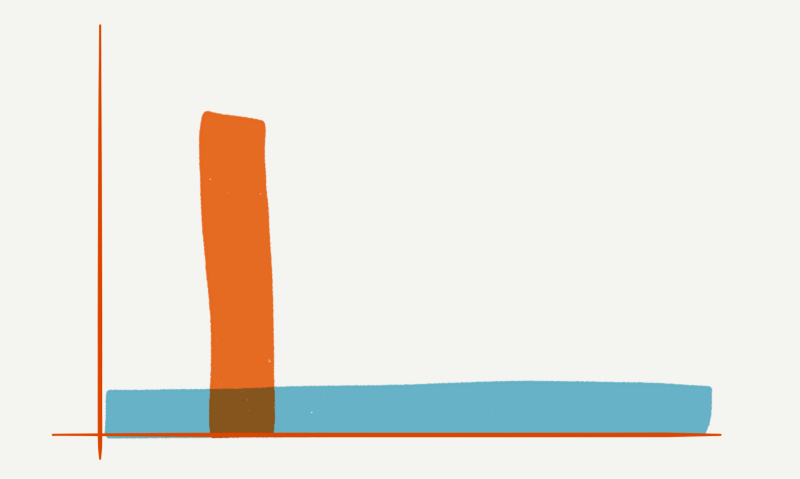 If you compare the early adopter group (orange) with the general population (blue), you can see that the early adopter is a small group that is in a lot of pain. Your solution should be a real painkiller for them, while it might be just a vitamin to the rest of the world. The small group of early adopters is also willing to pay much more than the rest of the world.
A nice example is Tesla. Tesla's Model S and Model X are expensive cars, they often cost more than € 100.000. Not everyone can or is willing to pay that much money for a car. Plus, in the beginning there were not enough supercharger stations to charge the Tesla's in a short period of time and the technology was not yet as evolved as it is now. The cars that Tesla sold were only to the early adopters. The people who really wanted to have an electric car and were willing to accept the shortcomings and pay the high acquisition price. From those early adopters Tesla learned a lot and was able to improve the technology. Yesterday, thanks to the early adopters, Tesla was able to launch the Model 3. A much more affordable electric car with better technology. It is still not a car for the masses, but the group Tesla is targeting now is already a lot bigger than the small group of early adopters.
High LTV, low CAC
Because your early adopter is in so much pain, it should be easy to get them aboard to have them try your solution. Normally the early adopter is also willing to pay more than the average customer to have his problem fixed. If you look at the following graph, the early adopter is on the top left. Easy to acquire, high life time value.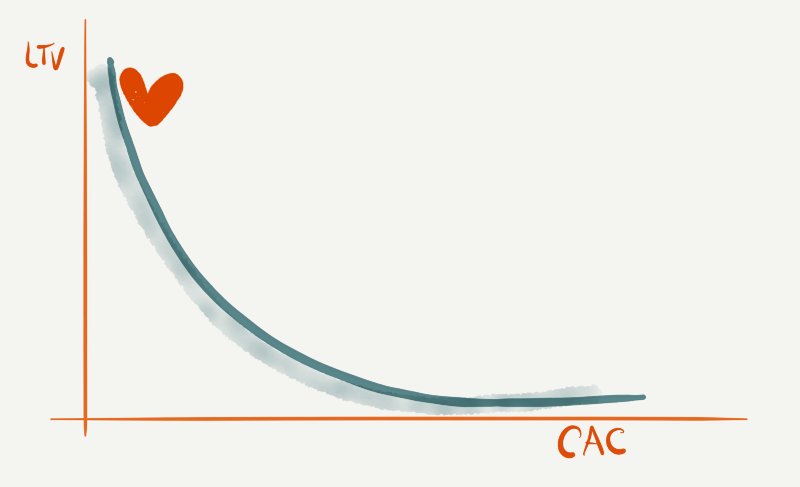 You want to target the early adopter in the first stages of your startup. They are a good investment. Just like Tesla's early adopters, you are able to learn a lot from them. They are willing to help you improve the product. The more you move towards the general public, the lower your LTV will be and the more energy and money you have to put into acquire them.
Next steps
When you are successfully targeting your early adopter, it is safe to slowly start expanding your focus to a wider audience. Looking at the LTV/CAC graph you start moving to the right. This new customer segment is probably not willing to pay as much as your early adopter and will not want to put the same effort in trying your product. Your cost of acquisition will also be higher, but there should also be more of them. You can only target this next group when you are able to do the investment in time and money to reach and convince them. That is why it is so important to start with the early adopter.

Timan Rebel
Timan Rebel has over 20 years of experience as a startup founder and helps both independent and corporate startups find product/market fit. He has coached over 250+ startups in the past 12 years and is an expert in Lean Innovation and experiment design.